Clean, Simple Web Design
I have over 18 years of web design experience. My emphasis is on making sure your website is easy for visitors to navigate and use. Prices range from as low as a one-time fee of $50 to over $200 per week.
My goal is to specialize in WordPress, plus a few simple hand-coded sites to keep my skills sharp. I offer:
Hand-coded Basic Website Creation (Preferred size: 1-20 pages)
WordPress for clients who want more features or to add their own content.
Cleanup of existing website layout and code.
HTML, CSS, PHP, MySQL, and some Javascript skills.
Web Design Portfolio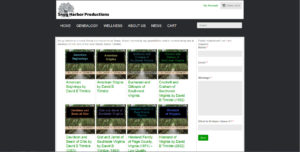 Project: This company was started by my grandfather many years ago. He sold genealogy CDs, hand-made miniature grandfather clocks, and other crafts. In 2007 he handed it over to me. I have since automated paperback book ordering and digital downloads.
Webhosting
Clients who use me for both web design and website hosting receive a special discount. If you are only here for hosting, my prices are as follows:
50 MB
50mb space
500mb bandwidth
$10/year
500 MB
500mb space
5000mb bandwidth
1 month - $5.00
3 months - $15.00
6 months - $27.50
1 year - $50.00
2 GB

2,000mb space
20,000mb bandwidth
1 month - $6.50
3 months - $19.50
6 months - $35.75
1 year - $65.00
5 GB

5,000mb space
50,000mb bandwidth
1 month - $8.00
3 months - $24.00
6 months - $44.00
1 year - $80.00
More package sizes available upon request. Also ask about my other webhosting company, which offers more space at a lower price!